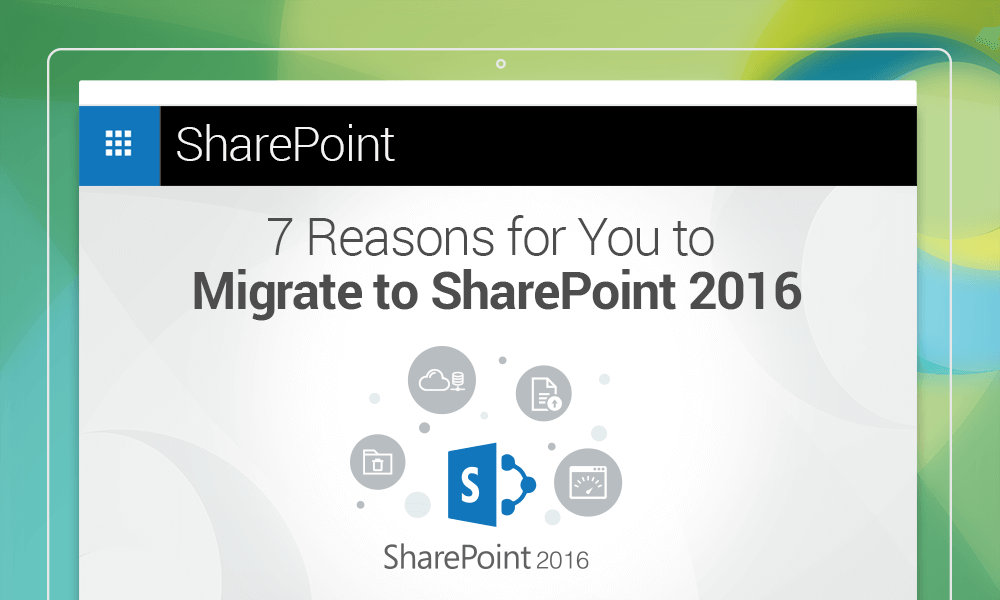 Microsoft has already pulled the plug on support services for MOSS 2007. Come 2020, a similar fate awaits SharePoint 2010, while SharePoint 2013 users will lose support privileges just three more years later. Considering all these factors, it's probably a smart idea to switch to the latest avatar of the collaboration platform, SharePoint 2016, anyway. It's not all about the fear factor, however. SP 2016 also brings a number of benefits to make working with it a real pleasure for users. Here are the top 7.
Data loss prevention (DLP) at no extra cost
DLP helps in safeguarding business data against unauthorized access when it is being moved, stored, or shared through SharePoint. In earlier versions of SharePoint, users had to look for third party tools to implement data loss prevention. In SharePoint 2016, DLP is available as one of the out of the box (OOTB) functionalities, which lets users protect sensitive data without relying on third party tools.
Seamless compatibility with cloud-based networks
From SharePoint 2013 itself, users have enjoyed cloud connectivity, which have allowed them to back up data of SharePoint farms to remote locations. However, SharePoint 2016 takes it one step further, providing a much better pathway to users connecting to the cloud from an on premise SharePoint installation.
Out of the box support for hybrid functionality
SharePoint 2016 lets users connect directly to Office 365, to use a number of advanced features of the latter. The supported functionalities include the following:
Search
Delve
User Profile
OneDrive for Business
A user-friendly app launcher allows users to quickly switch between SharePoint and Office 365 apps. Also, the Hybrid Team Sites feature help users following sites in Office 365 and on-prem SharePoint to get a complete list of all followed sites within their Office 365 profile. Hybrid Search is another feature that lets users search for files stored within on-prem and SharePoint Online environments from one, unified search box.
Durable links to maintain links after moving files
In every earlier version of SharePoint, users and admins have grappled with issues related to broken links to files. Any time a user changed the name of a file or moved it from its original location, every previous link to it (shared through emails or embedded in pages) would stop working. In SharePoint 2016, Microsoft has resolved this issue once and for all, by introducing durable file links that work even if the name or location of the original file is changed.
More efficient file uploads with BITS
Earlier versions of SharePoint utilized HTTP protocol for uploading files. While it was good enough as far as upload speeds are concerned, individual file sizes were capped at just 2 GB. In SharePoint 2016, Microsoft has switched to Background Intelligence Service (BITS), which accelerates uploads, and also raises the cap to 10 GB for individual files.
MinRoles to configure what each server will do
SharePoint 2016 lets admins to install the role they would want a particular server to perform. That way, admins can ensure that all servers in a farm are compliant with their individual roles. They can also convert servers to run new roles, in case it is necessary later on.
Faster creation of site collections within SharePoint 2016
SharePoint 2016 offers a feature named Fast Site Collection, which decreases the time necessary to create a collection from 40 seconds to just one at the content database level. It accomplishes this by copying an already existing site collection template and building the new one based on that. This particularly comes in handy when creating collections with lots of SharePoint sites.
Reasons like the above ones, along with the fact that SharePoint 2016 is the most feature-rich and powerful iteration of the platform till date, make switching to it right now a wise decision.
It wouldn't be out of place to mention here that Collabion Charts for SharePoint (CCSP) offers complete support for SharePoint 2016. Users looking to build SharePoint charts with the latest version of the platform can download the latest version of CCSP from here and enjoy building charts, as well as SharePoint dashboards, with just a few clicks.