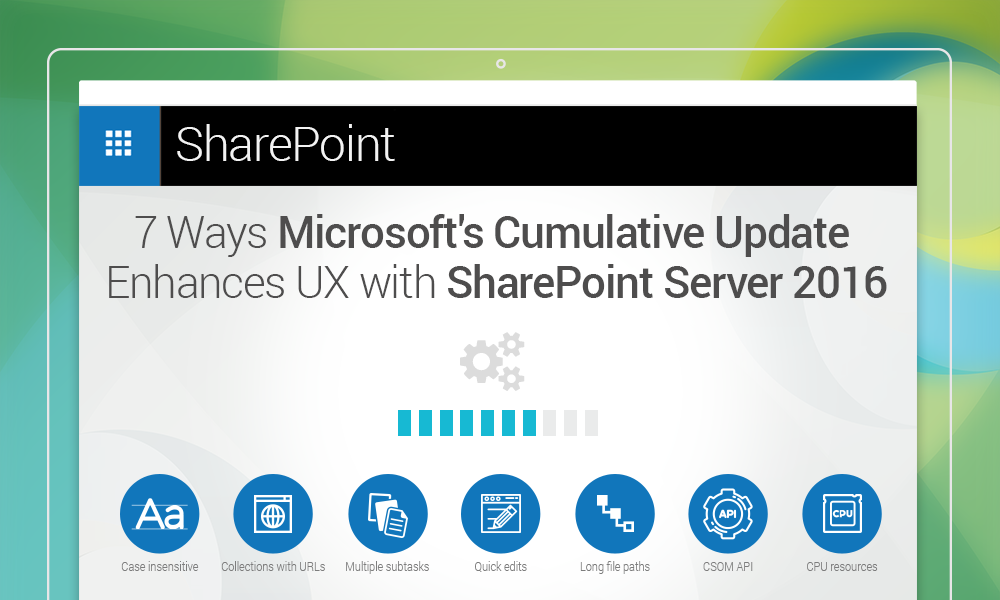 Since the release of SharePoint Server 2016 last year, users had been reporting small, niggling issues that they often faced when working with the platform. No surprise there, considering the expanse of the platform. Microsoft was quick to respond, promising comprehensive updates to handle many of the major issues. They delivered on that earlier this year, releasing a cumulative update for SharePoint Server 2016.
What the update includes
The update includes the previously-released Feature Pack 1 for SharePoint Server 2016, along with two knowledge base related fixes – KB3141486 and KB3141487. The first one is a security update that supports all languages and fixes a vulnerability that can allow arbitrary code to execute when a user unknowingly activates a malicious software program. The second one, which is language-dependent, offers plenty of improvements to stability and performance of SharePoint.
Major issues that the update fixes
The cumulative update includes fixes for quite a few issues that users have reported since last year. The most significant ones include the following:
Solution – 1: Local Term Store Name parameter is now case insensitive
The Local Term Store Name is one of the essential parameters, which the user needs to deal with, when configuring hybrid taxonomy. Prior to the update, it was case sensitive, and the user had to key in the entire name in the correct cases for it to work. Following the update, it is now case insensitive, which should considerably reduce the hassles associated with it.
Solution – 2: Administrators can now restore site collections with URLs
Admins of SharePoint Server 2016 have often been dismayed after finding out that they were unable to restore site collections, if those collections had their individual site URLs. Whenever they tried, they saw an error message regarding primary key violation. After installing the cumulative update, they will be able to do this just fine.
Solution – 3: Multiple subtasks no longer created unexpectedly
Since the release of SharePoint Server 2016, users occasionally reported that when they tried to copy and paste subtasks in grid edit mode, multiple subtasks were created instead of only one. This bug has been fixed in the update.
Solution – 4: Quick edits to user profiles no longer cause sync issues
When users made multiple modifications to user profiles quickly, they often found that Quick Sync could not be completed successfully. It would take several tries with manual syncing to properly sync the profiles. This issue has been fixed with the patch.
Solution – 5: An SACL containing long file paths now remains secure
SharePoint Server 2016 often could not read System Access Control List (SACL) correctly, if the latter contained file paths adding up to more than 260 characters. Not only that, it would also make the SACL discoverable for every user, irrespective of the kind of permissions their accounts had. The update has fixed the issue.
Solution – 6: Users can now use the CSOM API better
Earlier, users were unable to use the CSOM API of SharePoint Server 2016 to set the BookingType property for enterprise resources in their projects. With the update, they can now set this property just fine.
Solution – 7: SharePoint Server 2016 now uses CPU resources better
Users reported instances where the SharePoint Server 2016 would become unresponsive and show extremely high CPU resource consumption in the Task Manager. Users would not be able to access any site either, and any page that they managed to load would be extremely sluggish. That issue has been fixed in the update.
Bottom line – the January 2017 cumulative update for SharePoint Server 2016 fixed lots of technical and security issues that have been around for some time. Now that these hassles have been resolved, users should be able to run the platform better.